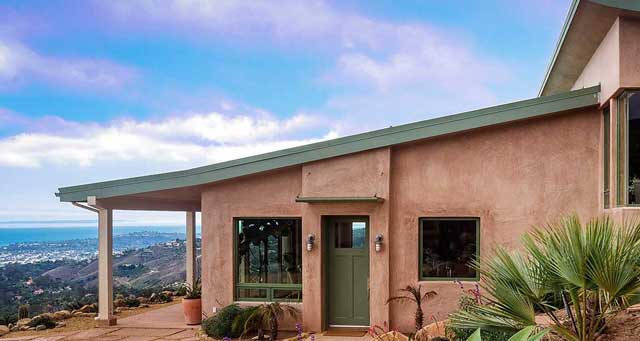 When you want the perfect home for you built exactly to your specifications, that's the time to call the top custom home builder in Santa Barbara: Cheney Builders. We're known as luxury custom home builders, but we build custom homes of all sizes throughout Santa Barbara. We do site prep work, framing, finish work and home remodeling projects.
Fire-Resistant Custom Home Builder in Santa Barbara
Being a custom home builder is extremely rewarding. We love the creative aspect of our work, and we love helping Santa Barbara homeowners build the house of their dreams. But while California is beautiful with perfect weather, living here is not without risk — especially risk of fire.
It's devastating to see any house go up in flames, but a house you built yourself to specifically to suit your needs is not easily replaced. That's why as custom home builders in Santa Barbara, we specialize in fire-resistant construction. This includes using stone, concrete and metal in your structure. Houses made of these materials are not only more resistant to fire, but they also hold up better in the event of an earthquake. They are simply stronger overall — and so beautiful!
Luxury Home Builders in Santa Barbara
When you secure a piece of land with amazing views of the Pacific Ocean, you want to build a house on it that lives up to the scenery. Design and build your luxury custom home with floor-to-ceiling windows that never let you forget how lucky you are to live in Santa Barbara.
Imagine marble floors, ornamental wrought iron railings and vaulted ceilings with exposed beams. If you appreciate tasteful architectural design, you will revel in our luxury homes with multiple fireplaces, walk-in closets, fully equipped home gyms, and of course a swimming pool with an infinity edge. We help make your dreams come true.
Home Remodeling
For those who prefer to buy an existing home and modify it to their specification, we offer home remodeling. You can get some smaller homes in Santa Barbara for a bargain price, then spend the money you saved building it out.
Bump out the kitchen, swap out small windows for larger ones and update the bathrooms to make them modern and inviting. Give your new home a more luxurious feel with granite countertops, tile flooring (stays cooler for longer!) and stainless-steel appliances.
Not enough space in your home? We can build an addition for you to create a larger family room, an extra bedroom or we can add an entire second story and double your space.
Top Santa Barbara Home Builder
Cheney Builders has 15 years of experience in the industry, and that's one reason we're a leading custom home builder in Santa Barbara. We're also known for our responsiveness, timeliness and our excellent customer service.
Whether you're building a custom home, a luxury home or you're looking for a home remodeling contractor in Santa Barbara, Cheney Builders is your best choice.